On With The Show
Last night's Leonard Cohen concert in Lille, France has already generated online photos, videos, and reviews – so let's get to them. As usual, click on images for best viewing.
See Leonard Cohen On Stage, And Die
I rarely include foreign language reviews because of the damage all too frequently inflicted by the automated translations on which I must rely. In this case, however, I believe the basic intent of the writer survives the Google translation:
Leonard Cohen or the unspeakable lesson in a "songwriter" to the supreme elegance1
By Virginia Board
Rise because Mr Cohen comes on stage. … Be led away by the charm of pretty sisters Webb, …  the density of exchanged glances on stage, full of goodness, kindness, transcribed on two giant screens. And above all, his voice trembling, his "golden voice," his baritone voice intact, deep, which soothes, envelope.
"We'll give everything we've got tonight," promised Leonard Cohen, in his magnificent 76 years and postures elegantissima. Everything is huge for a life and a work so rich: a lot of pleasures of the flesh (Chelsea Hotel), sore Love (Is not no cure for love, I'm your man), disappointments course (Dance Me to the End of Love), an insatiable quest for freedom (Bird on a wire) and redemption (The Future), Leonard Cohen, as always in itself, seems in perpetual prayer. Words have meaning as it has been translated on the screen for Francophones, even if the public Zenith last night was very English. Everyone has heard the regrets, the messages to God, the disillusionment of the "old man" québequois of folk, Jewish faith, a Buddhist monk for fifteen years.
What explains the intense emotion that gripped the greater metropolitan theater? The perfect sound, antique, exquisite arrangements and colorful – a work of craftsmanship – guitars, Barcelona for one, rhythms, organ? The keyword density of a figure so large international music? The quaint charm, class a crazy old man? His transcendental Hallelujah, The Partisan's powerful, his true and Susan? Zenith de Lille shuddered all over, in unison, recalling the many times, was moved to tears, as illuminated by the lesson of a master.
See Leonard Cohen on stage, and die.
Leonard Cohen – Suzanne (Lille 9/25/2010)
Video from idfmr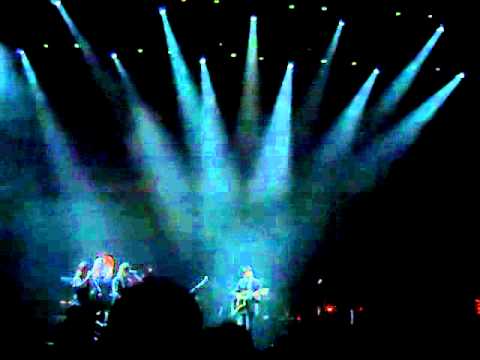 Leonard Cohen – Chelsea Hotel #2 (Lille 9/25/2010)
Video from idfmr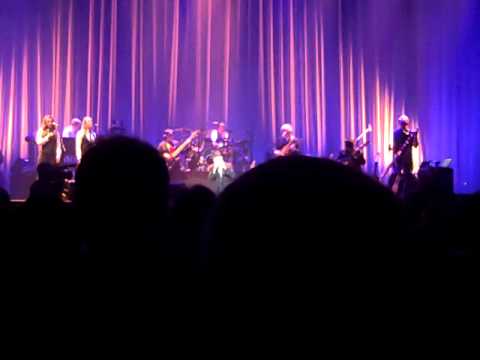 Credit Due Department: Photos by Maarten "Sleep Is For Wimps"  Massa.  I was alerted to the review quoted above by a post on LeonardCohenForum by rpan.
Leonard Cohen or the unspeakable lesson in a "songwriter" to the supreme elegance by Virginia Board. La Voix du Nord 26 Sept 2010 [↩]