Whither Thou Goest – 1993 and 2007 Versions
The Whither Thou Goest duet1 by Leonard Cohen and Anjani Thomas has been and continues to be one of the most popular items ever posted at Heck of a Guy (thanks, in no small measure to links from the Cohencentric sites, especially LeonardCohenFiles.com).
As I noted in that earlier post,
Whither Thou Goest, however, is not on any album although it was often used by Cohen, who sang it a capella with other band members, as a concluding benediction to many of the concerts of his 1988 and 1993 tours.
That note was based on my research rather than my experience; I had, alas, never heard that song performed by Leonard Cohen before his duets with Anjani.
Consequently, it was a pleasure today to stumble across a recently uploaded YouTube video of the earlier iteration of Whither Thou Goest.
I thought others might be interested as well.
For comparison, the first video player is loaded with the Leonard Cohen and Anjani duet from Joe's Pub in New York. The second video player contains the song performed as the concluding number of a 1993 concert in Toronto.2
I recommend viewers take special note of the morphing of Leonard Cohen, he of the distinguished Jewish heritage and Zen Buddhist involvement, into Reverend Leonard, the TV evangelist – "Put your hand on the screen … ."
Leonard Cohen and Anjani Thomas sing Whither Thou Goest at Joe's Pub, New York, 24 April 2007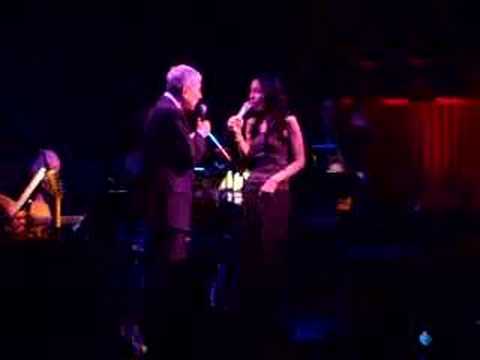 Leonard Cohen and Backup Group end their 1993 Toronto performance with Whither Thou Goest
And God bless you.
Goodnight
_____________________
Technically, I suppose, that should be the Whither Thou Goest duets, given that Heck of a Guy posts have featured audio files of Leonard Cohen and Anjani Thomas singing that song in Warsaw and links to the video they sung at Joe's Pub in New York [↩]
The fuzziness of the Toronto video combined with the fuzziness of my vision precludes my recognition of the backup singers, who are not identified in the YouTube description. And because I am once again restricted in bandwidth use by my satellite access, I can't track them down via the Internet. Sorry. [↩]